Veterinarians
Dr. Joseph M. Fereday

Veterinarian
Dr Fereday is a 1982 graduate of the LSU School of Veterinary Medicine. After graduating from Veterinary School, he worked in Princeton, West Virginia as both a large and small animal veterinarian. He returned home to Louisiana and worked for Southern Veterinary Services in New Orleans for 3 years.
In 1986, he established Brownswitch Pet Hospital in Slidell. He is a member of the American Veterinary Medical Association, the Louisiana Veterinary Medical Association, and the Florida Parishes Veterinary Medical Association. In his spare time he enjoys all sports, snow skiing and spending time at his farm in Mississippi.
He is married to Lori and they have one son and two daughters. They share their home with Maddie the Papillion and her friend Delta the Yorkie.
Technicians
Jade Skelly

Veterinary Technician
Jade is married and has two sons. She also has two fur baby dogs, Jewel and Moo. She has worked at Veterinary clinics for the past two years. When she is not working, she enjoys spending time with her children and listening to music.
Debbie Trenchard

Veterinary Technician
Debbie has been married to Vic for 16 years. She has two children, Tiffany and Hunter. She also shares her household with 5 dogs; Gray, Gizmeaux, Creole, Simon and Ellie Mae. She has worked as a Vet Tech for over 10 years. In her spare time she loves to fish and go to the beach.
Staff
Colette Rector

Veterinary Receptionist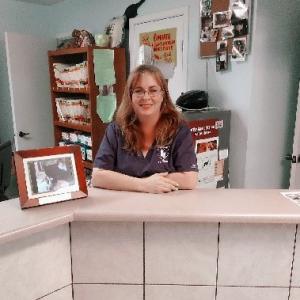 Colette is originally from Texas and now lives in Lacombe. She owns two cats, Harley and Davis, and four dogs, Buddy, Bear, Chek and Sparky. She enjoys spending her off time with her fiancé.
Pat Robbins

Veterinary Receptionist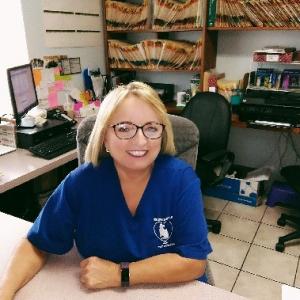 Pat has been married to her husband Steve for almost 44 years. She has two sons and two grandchildren. She has lived in Picayune , Mississippi since Katrina. She has a cat named Tater and a dog named Randi. She loves to garden and travel. She has worked at Brownswitch Pet Hospital for 28 years.
Donna Constant

Veterinary Receptionist
Donna Constant is the newest member of the Brownswitch Pet Hospital team. She and Chuck, her husband of 37 years, have lived in Slidell since 2002. They have 1 great son, 4 wonderful grandchildren, and a dog named Chloe. Donna enjoys spending time with her family and vacationing.