From Routine Spaying & Neutering to Orthopedic Surgery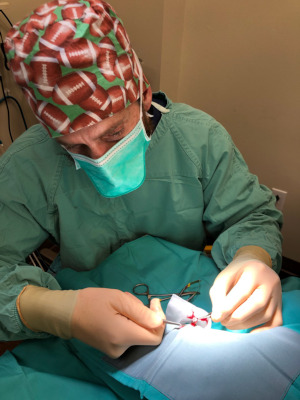 Whether your pet is scheduled for a routine surgery like spaying or the situation is urgent, Dr. Fereday and the compassionate team at Brownswitch will do their best to keep your pet as comfortable as possible before, during, and after his or her procedure.
All pets needing surgery will be carefully prescreened for conditions that could put them at risk of serious complications, and we will observe all safety protocols throughout your pet's surgery.
Dr. Fereday performs a broad range of procedures, including basic orthopedic surgery. A sampling of common surgical procedures performed at Brownswitch includes:
Traditional spay/neuter
Mass removals
Dental surgery
Ear hematomas
Cherry eye repair
Hernia repair
Wound and laceration repair
Amputations
Basic orthopedics such as fracture repairs. Complex cases are referred to two nearby board-certified surgeons.
Anytime your pet is under anesthesia at Brownswitch Pet Hospital, one of our veterinary technicians will monitor your pet's vital signs at all times. We know that your pets are like family members, and we will do everything we can to ensure that your pet's surgery goes smoothly.
Whenever necessary, we provide medical boarding so that your pet can get the appropriate post-op treatment and rest following his or her procedure. When your pet needs surgery, know that the dedicated team at Brownswitch will treat your pet like we would our own.
To learn more about our surgical capabilities or to discuss your pet's condition, please call us anytime.